Not all artificial grasses are created equal! Here at Greenway Turf Co. all of our products are thoroughly tested to meet the highest standards of quality, durability, natural look and feel. We test all the way down to the single strand to ensure that our products are lead free and a benefit to our environment instead of a detriment.
Greenway Turf Co. is so confident that you will find our artificial grass products superior to the competition that we are able to offer the best warranty in the industry. We provide a 10 year no fade warranty! Call a Greenway Turf Co. representative today to schedule your free consultation and estimate. Or fill out the form at the top of this page and a representative will contact you..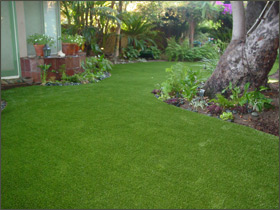 Veiw our 7 minute online video to see how dedicated we are to our products and workmanship. We use the best turf on the market and pride ourselves on being the best.
PET TURF
Pet Specific System
There is more to a pet system than just the type of turf you choose. Greenway Turf has a proven pet system that works! Our system starts at the sub-base and continues...
PUTTING GREENS
Fun, Amatuer and Professional
Whether it's for family fun or your looking to mimick your favorite PGA golf green... Greenway Turf Co. has the right product and the design knowledge to make it happen...